The Rowayton Community Center
These six acres of property have a long and extensive history and represent the nerve center of today's Sixth Taxing District.
In 1910, James Farrell, president and future chairman of U.S. Steel and founder of the Farrell Steamship Lines, bought a large stretch of land along Highland Avenue. The tract on the west side of Highland Avenue became the gardens, farm and out-buildings of the estate. These were built in 1912.  The complex consisted of barn, stables, garage, ice house, tool and wagon shed, blacksmith shop, greenhouse, potting shed and root cellar.
With the death of Mr. and Mrs. Farrell, the property was sold to James Rand of Darien, the chairman of the board of the Remington Rand Corporation.  Mr. Rand refit the stables across the street to accommodate his researchers.  It was in the stables, called "The Barn", that a few hundred technicians developed the Remington Rand 409 – the five foot tall, seven foot long business computer prototype, which was the first of its kind.
In 1966, "The Barn" and its six acres were purchased by the 6TD (Rowayton) for $142,500. 
This property was placed on the National Register of Historic Places on August 2, 1977. 
The complex contains the Rowayton Library (renovated in 2006), offices of the Sixth Taxing District, meeting rooms, the Underground Teen Center, the Paddle Hut, the Dog Park, garages, and various storage facilities.  The building is over 100 years old.
The Commissioners of the 6TD realized the need to look after the building so organized a Long Term Planning Committee in 2008 and this Committee developed a phased approach to a renovation endeavor.
·         The first stage related to the slate roofs and copper gutters.  Through an accidental encounter, the Committee learned about a historic preservation matching grant program run by the State of CT tailor-made to our project.  The 6TD received a $147,000 grant towards this project and the work was completed over the summer of 2011.
·      The second phase of related to the rest of the exterior – windows, doors, trim and walls.  We won a second state grant – this time for $198,000.  The project was completed by the end of 2012.
2011-2012 Before, During and After Photos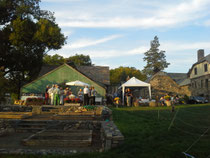 For information on the use or reservation of this property, please contact the 6TD Clerk at 203-854-6666 Extension #1.
Rowayton Community Center
33 Highland Avenue
Rowayton, CT 06853
203-854-6666